Restaurant 'Effe eten bij de Buren'

Eetcafé Effe eten bij de Buren is well known in the region as a cosy café with good service, good meals and a really Dutch no-nonsense mentality. We welcome you for a tasteful lunch or dinner at the end of your day out. More information: www.cafebijdeburen.nl .
De Boereplaats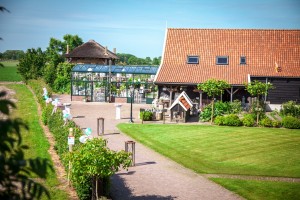 De Boereplaats (farmers place) is a stunning place for team building, incentives, party's and meetings. Next to the typical Dutch farmhouse you find the big barn – 'de boet' – and the newly built greenhouse. Eyecatcher on the property is the haystack with romantic bedroom, often used as bridal suite. De Boereplaats thanks its success to the creativity of Annet and cooking qualities of Olaf. Together they make their guests enjoy this special location and the delicious regional meals they provide. A beautiful location to have lunch after a visit to the Tulip Excursion, from where you follow your path to your afternoon activity! More information: www.deboereplaats.nl
Lotus Wokplaza is widely known for its very good Eastern kitchen. This restaurant can host smaller or bigger groups. You can choose for several grill- or wokmeals which are made right in front of you while you are waiting. Furthermore there is a choice of warm eastern meals, salads, sauces, sushi and an ice buffet as a dessert. Contact us for more information: www.lotuswokplaza.nl .
Beach restaurant STRUIN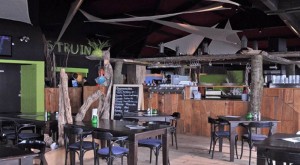 Beach restaurant STRUIN is a restaurant with stunning views in all directions. Because of the unique location at the top of the dunes, you can overlook the Dutch beach until IJmuiden. This is a nice location for lunch if you combine a visit to the Tulip Excursion with a ride with the solar train in the dunes of Schoorl or if you choose to visit Tulip Land in Sint Maartenszee. More information: www. struin.nu .
Veer koffie, thee & meer

Located amidst the serenity and natural beauty of the Hoenderdaell estate restaurant Veer Koffie Thee & Meer is proud to offer a carefully selected variety of delicious meals and drinks. We strive to use only top quality products, most of which are grown locally. You will discover how both meticulous care and the local farmers' attention to detail really shine through in our meals. The picturesque and tasteful décor of restaurant Veer will make you feel right at home. Its rural setting along the banks of the adjacent old lough, named Lage Oude Veer, and its gorgeous views overlooking an unspoiled area full of wildlife create a unique blend. Making this location absolutely unique to the region. We have ample and free parking availability for cars and busses. Aside from exploring our regular menu we would also like to invite you to join us for high tea, brunch, lunch specials, finger food, customized dinner arrangements (25 persons minimum), and we host group activities & more! More information: www.veerkoffietheemeer.nl .
Hotel van der Valk Hoorn
Hotel van der Valk in Hoorn offers a unique combination of hotel, restaurants, cinema and casino. The hotel is located along the highway A7 Amsterdam-Afsluitdijk and consists of 155 comfortable rooms, 11 meeting rooms, a buffet restaurant and an à la carte restaurant. It also has a wellness area with swimming pool, sauna and fitness room. De city of Hoorn is a good location to discover the Golden Century in the Netherlands. Close to Amsterdam and surrounded by lowlands, this is the guarantee for an excellent Holland Experience! More information: www.hotelhoorn.com .
Hotel van der Valk Wieringermeer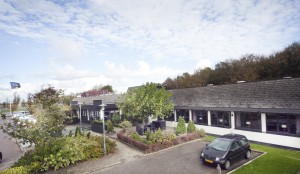 Only 750 meters from kwekerij Siem Munster you will find Van der Valk Hotel Wieringermeer. We would love to host you, as a guest from Sandra Munster for dinner or lunch. We can organize coffee, tea, lunch, dinner or a night in one of our four star hotel rooms. We invite you for a personal discussion so we can make you a customized offer. More information: www.hotelwieringermeer.nl .
De Zingende Wielen

A simple restaurant situated in a special part of Northern Holland. Famous for the outstanding fish- and meat dishes. The restaurant offers spacious parking places and is located directly along the main road N99, only 1 kilometre from the enclosing dike (A7). We are happy to welcome you! More information: www.zingendewielen.com .
Lunchroom 't Monument op de Afsluitdijk

The monument on the Afsluitdijk has more than 300.000 visitors each year, and is therefore undisputed the best tourist attraction in North Holland. The lunchroom in the monument has 50 seats inside and 70 seats outside on the terrace. Very friendly staff, nice prices, that make the lunchroom widely known in Holland and abroad. The lunchroom is not only perfect for a drink, a sandwich, a pancake or a hot or cold dish, but also to find out more about the establishment of the most appealing hydraulic engineering project of the Netherlands, through photos, old maps, and other material. It is the perfect place to sit outside on the terrace when the weather is nice, to enjoy the wind, water, sun and the beautiful view upon the IJsselmeer. More information: www.lunchroomhetmonument.nl .
The Irish Cottage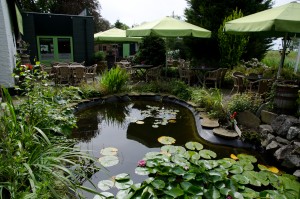 'Welcome to this historical farm, which has always been a place for travelers, musicians and locals to meet, since 1870! Nowadays open from 10 AM for food, a drink, (live) music, the Irish culture, a lot of fun and quality! We got a Pub and Restaurant, respectively for a pub meal or à la carte. With good weather we got a lovely garden, to eat or just have a drink outside! We got a lot of possibilities from lunch and dinner to high tea's and buffets, for bigger groups as well. With 350 whisky's, possibilities for a nice walk, lots of space for children, enough reasons to visit us! More information: www.theirishcottage.nl .
Restaurant 'De Rijd', located in Nieuwe Niedorp and adjacent to a stretch of water with the same name, facilitates 3 beautiful rooms for your dinner or lunch. Suitable for groups from 15 -200 persons. Saloon boat 'De Gouden Driehoek' ('The Golden Triangle') can be used as a complementary venue during your stay. On this boat, 70 persons can be accommodated. A meal can be served, if so desired. More information: www.derijd.nl .

Make a reservation? Click here!