Hortus Bulborum
De Hortus Bulborum in Limmen is the only garden in the world that has a collection of historical bulb flowers. Over 4500 varieties of tulips, daffodils, crosusses and fritillaria's show their beauty in spring. Hundreds of species from far before 1990, which or barely grown on a commercial base. The oldest varieties come from the 16th century, like Fritillaria Persica from 1577. Or legendary tulips like  "Duc van Tol, Red and Yellow" from 1595,  "Zomerschoon" from 1620- very popular during the tulip mania- and the parrot tulip "Perfecta" from 1750 are still to be seen in this garden. More information on hortusbulborum.nl
Land van Fluwel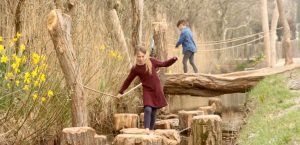 Adventure parc Land van Fluwel is a unique experience parc for young an old. An exciting forest trail tells all about the journey of the tulp, from the beginning in the wilderness until Fluwels greenery nowadays. The parc offers children a lot of fun: there is a barefoot trail and an adventure playground, definitely worth visiting! Land van Fluwel is open from April until October. More information: www.landvanfluwel.nl.
If you want a day out fully in the theme of flowers and bulbs? Than you can combine a visit to the Tulipexcursion with the Floratuin in Julianadorp. This is possible from Mid March until the beginning of May. You can choose to pick your own bouquet in the tulip garden or to join a workshop arranging flowers. More information: www.florabulbshop.com
Please visit two Wieringer Gardens, open to the public. The gardens are at walking distance (300 meters) of each other. The garden of the "Zonnehoek" is about 1700 m2, has more than 400 different species of plants, many colorful borders, small rock beds, shady areas and a secret garden with beautiful roses. This garden is in full color between March and October. Botanic flower bulbs in combination with early flowering shrubs. Also on the premises is the smallest shop of Wieringen, selling a wide selection of jams, juices and fruit; all directly from the garden.
Price upon request
Butterfly garden Vlindorado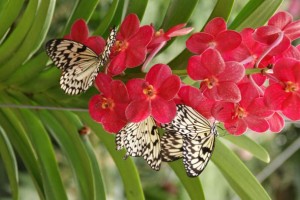 In the rural village of Waarland you will find the tropical butterfly garden Vlindorado. One of the biggest sheltered butterfly gardens in Europe is hosted in the flower greenery of Dekker Anthuriums. It is the home base of approximately 1000 butterflies amongst which you will find the blue Morpho from Mid-Amerika and the Malaisian paper butterfly. Stroll through the gardens, see how the pupas develop tob e a butterfly and enjoy a drink on the terrace. More information: www.vlindorado.nl .
Price € 6,50 per person
Oranjerie Den Helder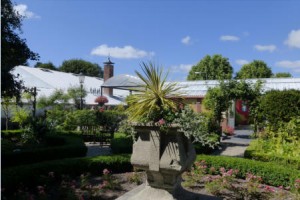 In the city centre of Den Helder you will find the Oranjerie, a beautiful botanic garden with colorfull tropical plants, the biggest cactus collection of North Holland, a beautifull Japanese garden, turtles, koikarpers, tropical birds and several butterflies. A must seef or garden lovers. Our voluteers love to guide you around and tell you alla bout the rare cultivars. More information: www.oranjeriedenhelder.nl .
Price € 4,- per person
Make a reservation? Click here!