Museum Broekerveiling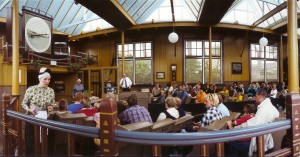 Museum Broeker veiling is the oldest sail-through vegetable auction in the world. You will be amazed by the impressive wooden building with mooring halls and a  beautiful auction room. It is build over water  on 1900 wooden piles. During a visit to the auction you will see how vegetables were sold in the 20st century and you can participate in the auction room from 1912. Like a real trader you can stop the auction clock, do not forget to pay to the auctioneer! You can expand the visit with a boat trip through the landscape reserve 'Oosterdel'. More information: www.broekerveiling.nl.
Price entrance, guided tour, movie and auction € 11,50 per person
Museum steam-hauled railway Hoorn-Medemblik 
The locomotive whistles and the engine driver heats up the fire. Get on board quickly because the steam train is leaving! The museum steam train Hoorn-Medemblik tells you the story of the railways in Holland between 1879 and 1966. It is possible to combine a visit to the tulip excursion with a trip on the steam train. The train rides from Hoorn to Medemblik and back, through the beautiful countryside, along typical Dutch villages like Opperdoes, Twisk and Wognum. De train operates according to the time table from mid March until mid November. More information: www.museumstoomtram.nl.
Special package price at the Tulipexcursion € 9,50 per person
In the rural village of Waarland you will find the tropical butterfly garden Vlindorado. One of the biggest sheltered butterfly gardens in Europe is hosted in the flower greenery of Dekker Anthuriums. It is the home base of approximately 1000 butterflies amongst which you will find the blue Morpho from Mid-Amerika and the Malaisian paper butterfly. Stroll through the gardens, see how the pupas develop tob e a butterfly and enjoy a drink on the terrace. More information: www.vlindorado.nl.
Price € 6,50 per person
Oranjerie Den Helder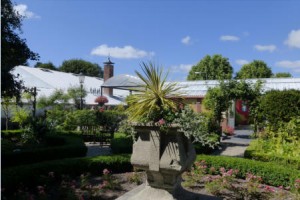 In the city centre of Den Helder you will find the Oranjerie, a beautiful botanic garden with colorfull tropical plants, the biggest cactus collection of North Holland, a beautifull Japanese garden, turtles, koikarpers, tropical birds and several butterflies. A must seef or garden lovers. Our voluteers love to guide you around and tell you alla bout the rare cultivars. More information: www.oranjeriedenhelder.nl.
Price € 4,- per person
Island museum of Wieringen, 'Jan Lont'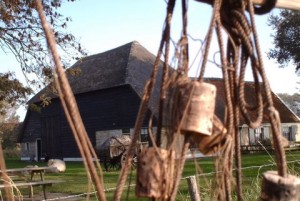 The Wieringer Eiland Museum "Jan Lont' shows you how the inhabitants of the former island Wieringen lived and worked around the year 1900. Be inspired by the inventiveness of the island inhabitants to create a way of live. See how they lived in the old farm houses or how they hunted birds or caught fish. More information: www.museumjanlont.nl.
Price € 4,- per person incl coffee/tea with Wieringer Koek
As certified 'Ambassador of the landscape' we love to take you on a bus tour through our  Wieringermeerpolder and over the former island Wieringen. This tour is made for groups from 20-50 persons, coming with their own bus, during 1½ , 2½ or 3½ hours, depending on the program that is chosen. Upon request we can reserve a bus for you, the costs are not included in below mentioned prices.
Price  € 7,50 per person for the short tour, including guide and coffee/tea with typical Dutch cookies, excluding bus transport. Upon request we can stop along the road to buy agricultural products directly at the farms (think about biological peppers, tulip bulbs, hanging baskets, tulips). If you wish a longer tour we can visit the pepper greenery, the Island Museum or a working wind mill. Just ask for an offer!
Make a reservation? Click here!