Experience Dutch nature with the sun train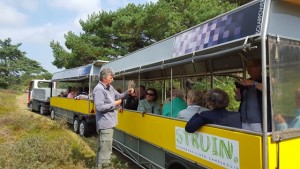 Together with beach restaurant Struin we organize guided tours with the sun train through forest and dunes of Schoorl. Normally this area is only open for hinking and biking, but this solar energy train is the ideal possibility for people who are not abel to walk to far. You can have lunch at beach restaurant Struin with a stunning view over the long beach of North Holland.
Price Sun Train € 11,- per person for a ride of 1.75 hours
Price lunch Beach Restaurant € 12,50 per person
More information: www.struin.nu
Landgoed Hoenderdaell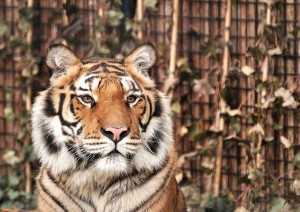 Floating crocodiles, hundreds of colorful birds, ring-tailed lemurs playing on top of the ape hill and …do you see the fallow deer in the woods? You can find them all on the Hoenderdaell estate! In the middle of the wood, you will also find the Stichting Leeuw Rescue Centre, where at least seven tigers and five lions have been given a home. The animal shelter in the Hoenderdaell estate is situated in the middle of a vast and beautiful nature reserve. The route leads you through the woods via wide-open fields and along the water. Don't forget to pay a visit to the birds of prey enclosure. Falconer Karel and his birds await you with a spectacular display, given daily at 12.00 hrs. and 15.00hrs.  More information: www.landgoedhoenderdaell.nl .
Price € 10,- per person
Especially for our foreign guest we co-operate with Dutch Walk & Talk to offer the possibility to visit a Dutch family in the town Enkhuizen. Guests and hosts talk about 'how to survive in daily live'on both sides of the ocean, we give your guests an unforgettable experience. Guests are welcomed in the houses of several families and get coffee with Dutch pastries. New friendships are born to last for years…. More information: www.dwtenkhuizen.nl .
Price upon request
Covered wagon tour with Poldertours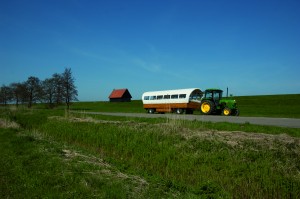 Our luxury and heated wagon has a capacity for a minimum of 20 and a maximum of 40 guests. We take you for a discovery tour through the Wieringermeer and what once was the isle of Wieringen. As an official ' Ambassador of the landscape' we inform you about the background of both landscapes, the hidden Viking treasures, our water management, the innovative greenhouses of AgriportA7 and the draining of the Wieringermeer by Ir. C. Lely. Meer info: www.poldertours.nl .
Price € 15,- per person for a two hour tour
Party boat de Koperen Hoorn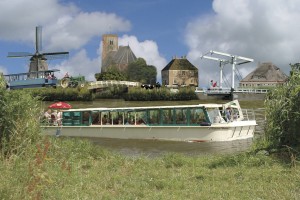 Enjoy the beautiful surroundings of the West Frisian landscape during a welcoming cruise aboard party boat "The Koperen Hoorn '. Floating over the water you will get a truly unique view over the iconic tulip fields, windmills and strict rectangular pattern of the Dutch land division that makes every trip a special event. While your captain Theo skillfully maneuvers the boat through the open waters, your hostess Tiny makes sure you have everything you need. The boat can be reserved for groups up to 55-60 people. There is a bar on board and when the weather is sunny, the sides of the boat will be opened completely so you can enjoy the spacious aft. The boat is also very accessible for disabled people as there is a specialized toilet and wheelchair elevator. More information: www.partybootdekoperenhoorn.nl .
Price upon request
Mudflat hiking

De Groot Recreatie is organizing several mudflat hiking tours from Den Oever, which is situated in the World Heritage Waddenzee. With help of an experienced guide you can experience how unique this piece of nature is. Mudflat hiking gives you a free feeling. Mud, water and an endless horizon are the ingredients for a wonderful relaxed activity. We will sail with the boat, look for seals and then we will be hiking the mudflats with the group, on our way  to the dike, or you can stay on board when you are not able to go with the group. So we can offer the sport-loving and less sport-loving people a nice day. More information: www.degrootrecreatie.nl .
Price upon request
Catching shrimps, peeling and tasting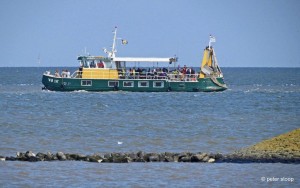 Shrimp fishing and sailing along spoonbills and seals from the harbor of Den Oever with the WR 117. Welcome on board with coffee. Sightseeing through the fisherman port from Den Oever under guidance telling about curiosities and fisherman ships. We will be fishing with a fishnet and the catch will be divided in tubs with water on the deck, so they can easily be watched while we give an explanation about this. The shrimps will be sifted and boiled and we learn our guests to peel and taste them. The unpeeled shrimp catch will be portioned so you can take along. On board there is a possibility to stay inside, with sea view, for 50 persons. More information: www.degrootrecreatie.nl .
Price upon request
Tour with open bus from Peer&Co

Do you need transportation between the top locations? We have the right bus for you! But there is more: We have an open top bus available for you! Feel the clean, fresh Dutch wind through you hair, while you're travelling or making a nice tour! We have interesting tours on the former island "Wieringen". You can also make a tour on the amazing "Afsluitdijk". Please call us or send us an e-mail and we will inform you about all the nice and affordable possibilities! More information: www.peerenco.nl .
Wieringer Sanghers
The group Wieringer Sanghers is a beautiful folkloristic group which offer shows in traditional clothing from the former island of Wieringen. They sing typical Dutch songs from the old times. The singers are invited by several groups to make their day out complete with songs and the showing of the clothes. They wear clothing from around the year 1900. The choir excists of about 30 persons. More information: www.wieringersanghers.nl .
Price
€ 180,- for a one hour show (singing, fashion show), this price excludes rental of the accommodation, mostly the shows are in Museum Jan Lont, Stroe.
€ 250,- for a two hour show (singing, fashion show, break), this price excludes rental of the accommodation, mostly the shows are in Museum Jan Lont, Stroe.
Make a reservation? Click here!